Post by Achilletalon on Sept 16, 2017 12:25:06 GMT
... We might be at the end of the Atlas' WW II Fighters/Aces of WW2 ; model was announced among the very last of the serie (somewhere between nb 25 & 30)... Good to see the model released before Atlas keels over.
... So, another iteration of the Ixo's he 219 tool... That will be the 4th after the Altaya's, Warmaster's & Solido's respectively and we get another and diffent livery.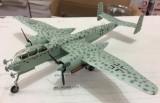 ...
back to mottling over RLM's blue like the 1st Altaya's relase. Sticking to the collection's theme, it's an ace's moint we get.
Werner Steib's he 219 A0 which he flew for operational tests from Venlo (Holland). It s with that one he cam back claming 5 victories over the Dusseldorf Raid in early June 43... the same plane he crashed with the same night after a flaps failure (they didn t lock when landing).
....
Streib's V9 ("Versuch"= "prototype"/"development" plane to make things short) was fitted with the Fug 212 radar featuring the "matress" antennas..
These, of course/alas (?) seem to be the model's weak point... not extraodinary they are ; but™ it's a 25-30€ magazine model (and i d like to see some main manu dare the thing on a 100 $+ model...).
Unlike the Solido's, markings are better handled but for the Stab's one: Gruppe Kommandeur insigna ibeing absent from the front fuselage (see profile & other pics below).
Again, we "get" the tricky to assemble u/c (but at least, it s complete and better than some 1/72 model kits renditions). Anf the a/c os NO tail sitter!!! (ok, my contact told me not to use a jackhammer in the vicinity of the cabinet!!)...
Correct version & markings, right antennas (some profiles & model kits show this palne with later type ones).. No Nachtjagd insigna, but's it s not proven the plane featured one (served for tsts and for a short time after all)...
..
the venlo's crash , Streib & his radar operator got out with minor injuries only!!!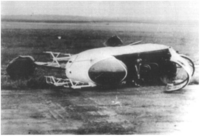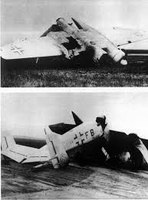 ....
the Owl never got back to the sky.... (but we can jave a look at markings and livery that way)..
Profile:
....
It s a pre-pro photoshoot ; not sure they will correct & add the missing Stab marking ; and that's why the u/c is not complete. and I don t know if the model is already available (sold only by mail order in France & Germany ; e bay might be the solution).