Post by kyushuj7w on Feb 27, 2017 18:18:15 GMT
Yokosuka K5Y2 Aka-tombo / Red Dragon Fly - Float Plane Trainer
Producer Marushin ( This diecast line is occasionally active, but releases are limited )
Scale 1/48
Model Number S031
Yokosuka K5Y2 Red Dragon Fly - code name Willow Float Plane 1941
UNITS ALLOCATED Kashima, Kasumigaura, Shanghai, Suzuka and Tsuchiura, - Kokutais.
While I can not be 100% certain I believe this aircraft represents the Kashima Kokutai due to the unique kanji on the tail. カシ
Kashima seaplane base was close to the Pacific Ocean to the east and the Kitaura portion of Lake Kasumigaura to the west. It is approximately 110 kilometers to the northeast of Tokyo.



Marushin diecast are impressive pieces of metal. Very little plastic, solid, great panel lines but completely bereft of cockpit detail. They need to be assembled but this as a rule easily done.

HOWEVER THE WILLOW IS THE WELL KNOWN "EXCEPTION TO EVERY RULE". IT IS A LITTLE BEAST!!!!

That said, it is a bit understandable as you are trying to assemble a heavy metal biplane with attachment points that at best need some refinement. It is not like a plastic kit where an x-acto blade can open holes and trim away excess. Once you have it together NEVER, NEVER, forget like I did for this review, how heavy it is and pick it up by the top wing. The wire pinged off in every direction, I had to make a replacement painted gunmetal black with music wire.



I remember well how hard this was the first time. Use clear Elmers to hold the attachment points in place and always pick it up from the bottom.




The 6 rigging wires are supplied with the kit and the struts and fuselage have small holes pre drilled for placement. However, the struts have to be pretty much perfect for them to fit or they will bow as I notice some do once I took photos. This was my last Marushin to review. They are pretty rare and expensive these days, so unless I find one in an estate sale or an unusual sale situation it may well be my last. However she is a little gem and I'm glad I got it.

Assembly saves on box storage space. Other than the Willow I encountered few snags that were not worked through with very basic modeling skills and a small screwdriver and Swiss army knife. The canopies are snap in arrangements but a drop of clear elmers glue holds them in place. Some owners have used 1.48 plastic A6M model cockpit interiors and created astonishing detail to flesh out their Marushins, but I personally have never attempted this. The landing gear is also sparse on detail but not so noticeable. Cannon, machine guns and pitot tubes are metal rods and should be painted. The rods can take a bit of filing down to place within the wings. Still this is more than worth the effort.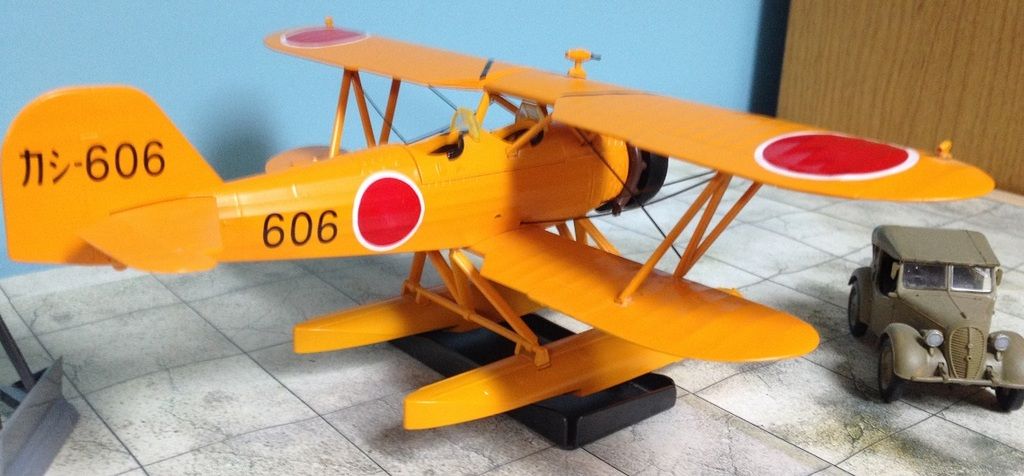 General characteristics K5Y2 Seaplane version

Engine: Hitachi Amakaze 11 9-cylinder radial 340hpK5Y3Floatplane, with 384 kW (515 hp) Amakaze 21
Power: 340hp
Crew: 2
Span: 36ft 1in
Length: 28ft 10in
Height: 10ft 6in
Empty weight: 2,535lb
Maximum take-off weight: 3,638lb
Max speed: 123mph
Climb Rate: 19min 35sec to 3,280ft
Service ceiling: 18,700ft
Range: 436 miles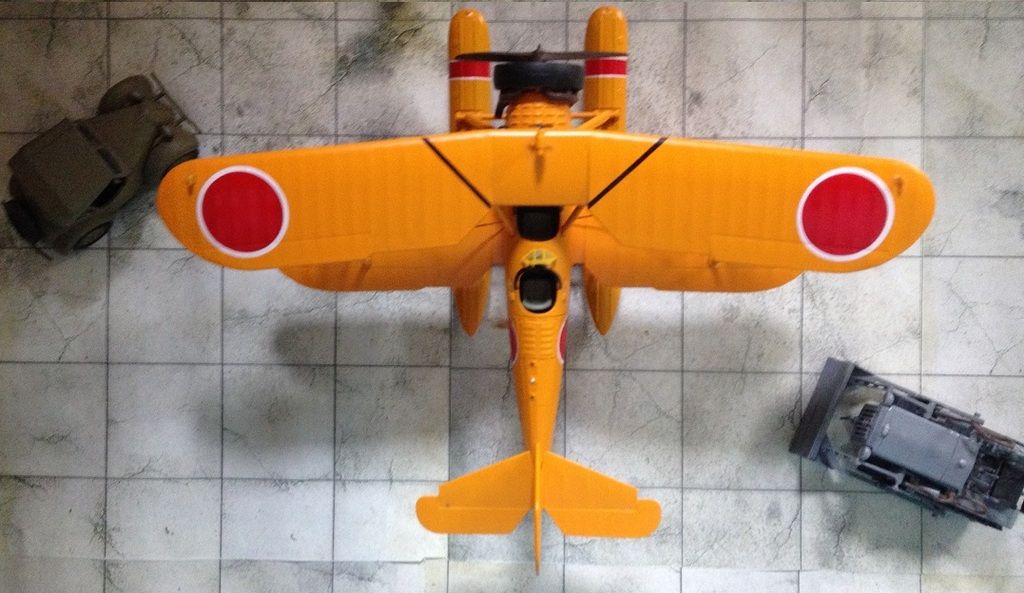 Armament:
One fixed forward firing 7.7mm machine gun, one flexibly mounted rear firing 7.7mm machine gun
Bomb load: Two 66lb or ten 22lb bombs




K5Y2Floatplane version, with Amakaze 11 engine.
K5Y3Floatplane, with 384 kW (515 hp) Amakaze 21.
Production: A total of 5,770 K5Ys were built between 1933 and 1945 of which 871 were float planes.




K. K. Watanabe Tekkosho produced 163 floatplanes - Nippon Hikoki K. K. produced 708 K5Y2 & 3 floatplanes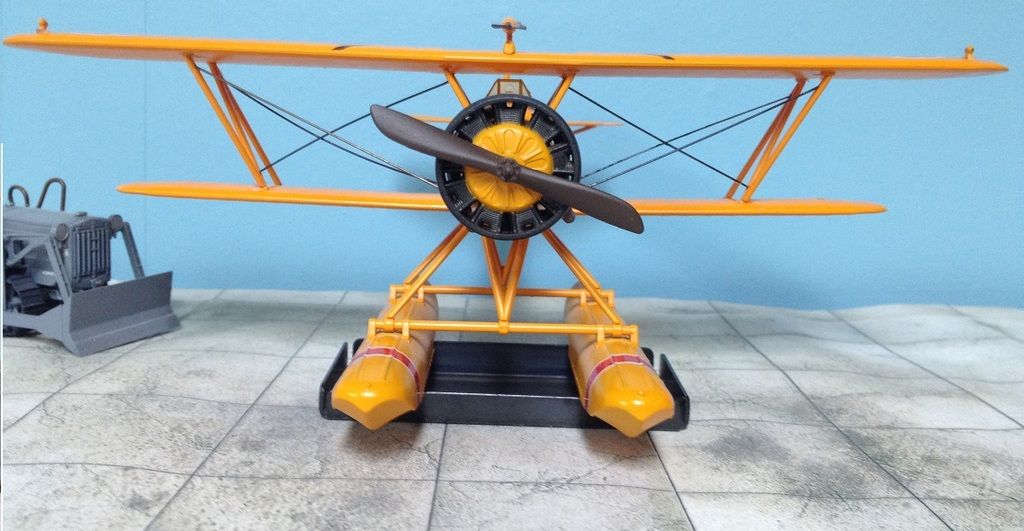 Almost every air arm of the 1930's and 40's had a simple small biplane to provide intermediate pilot training. The Imperial Japanese Navy's solution to this need was the Type 93 Yokosuka K5Y. Typical of the type, the K5Y was an attractively proportioned plane that entered service in 1934. Slightly less typically of the genre, the K5Y could be fitted with wheels or floats and carry a light bomb and gun armament. The K5Y was exclusively a naval trainer; the army's closest equivalent was the Ki-9 "Spruce,"





Kawanishi developed the K5Y from Yokosuka's earlier Type 91; this process improved the earlier design's stability problems. The Type 91 was a single bay biplane with N struts, cowled main wheels, a radial engine with ring cowling, a welded steel tube structure for the fuselage and wooden framework for the wings and a fabric covering. The aircraft was given a new upper wing with more dihedral and sweep-back than on the type 91. It was also moved closer to the fuselage.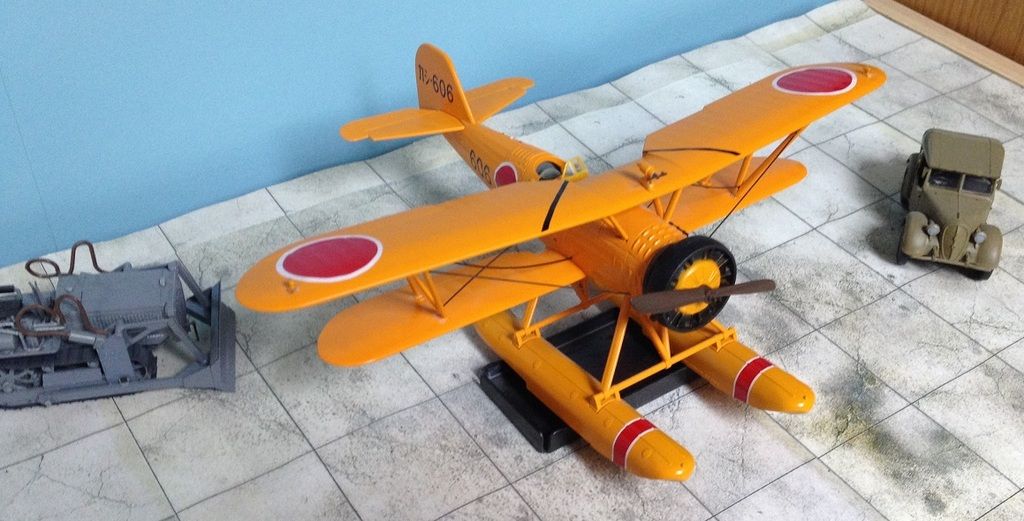 The tail surfaces were also redesigned. It was powered by a 340hp Hitachi Amakaze 11 radial engine, equipped with a Townend ring. This replaced a slightly lower powered Gasuden Tempu 11 radial engine. The new aircraft was slightly faster and had a slightly better rate of climb than the Type 91. Otherwise it was very similar, with the same N struts, single bay wings and construction methods.




Eight different manufacturers produced about 5,770. Given the Allied codename of Willow, the Japanese naval airmen called it aka-tombo meaning red dragonfly; no doubt in part from its usually bright orange colour as applied to most Japanese naval trainers.

The Willow saw wide service to the end of WW2 as the wheeled K5Y1, and two floatplane versions as the K5Y2 and K5Y3 (these having different versions of the same Amakaze engine).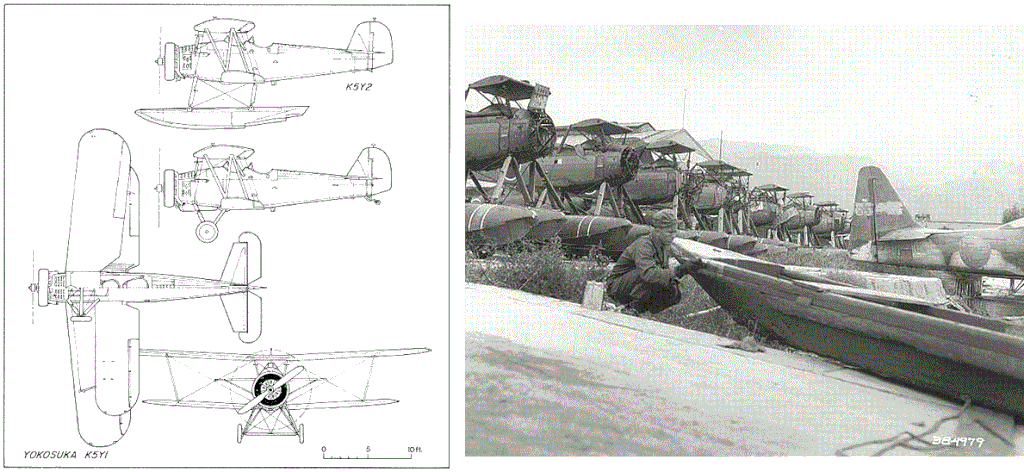 Like many training and utility types, the last Willows were prepared with explosives for Kamikaze missions in the event of the Japanese home islands being invaded. On 28 the USS Callaghan became the last ship sunk by a kamikaze. She drove off an attacking wood-and-fabric Yokosuka K5Y biplane with well-directed fire. The aircraft survived this first approach because the proximity fuses were ineffective against its wooden fuselage.



Note how obvious the rigging warping due to being a hair too long at this angle. I need to do some trimming and filing.

The plane, skimming low and undetected, returned to strike Callaghan on the starboard side. It exploded and the plane's bomb penetrated the after engine room. The destroyer flooded, and the fires which ignited antiaircraft ammunition prevented nearby ships from rendering aid. Callaghan sank with the loss of 47 members of her crew. That such a slow and light aircraft with such a small bomb load could sink a destroyer shows what can happen if a ship was hit in just the right spot. The DD USS Laffey now a museum ship in Charleston SC harbor took 4 conventional bomb hits and at least 6 Val and Judy Kamikaze hits and barely survived.


[/b]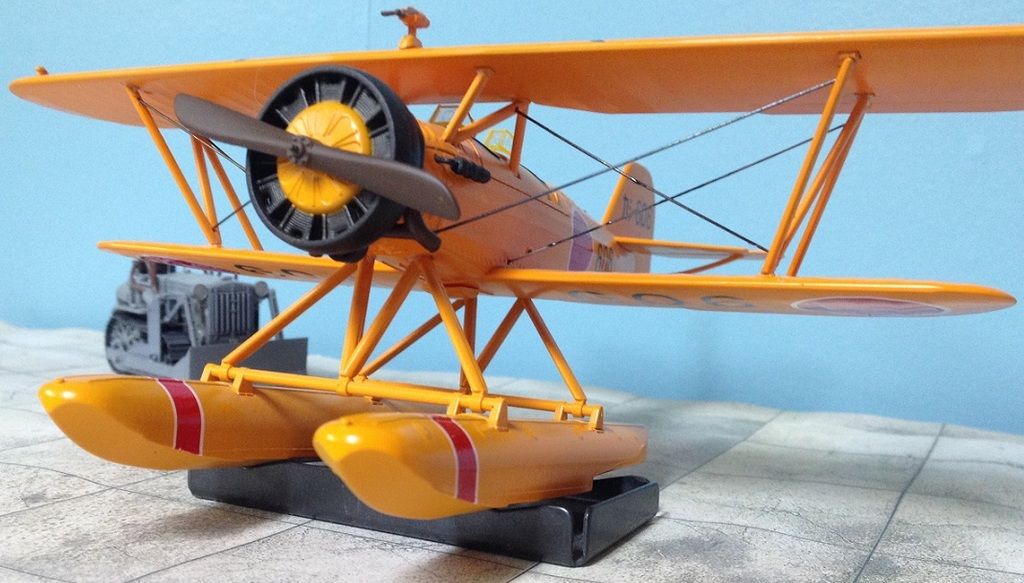 [/b][/p]