Post by kyushuj7w on Feb 23, 2016 4:08:32 GMT
Producer - Franklin Mint Armour
Scale 1/48
Model Number B11E069
Nakajima A6M2-N Float plane fighter
5th Kōkūtai (452 Kōkūtai) Kiska and Attu Aleutians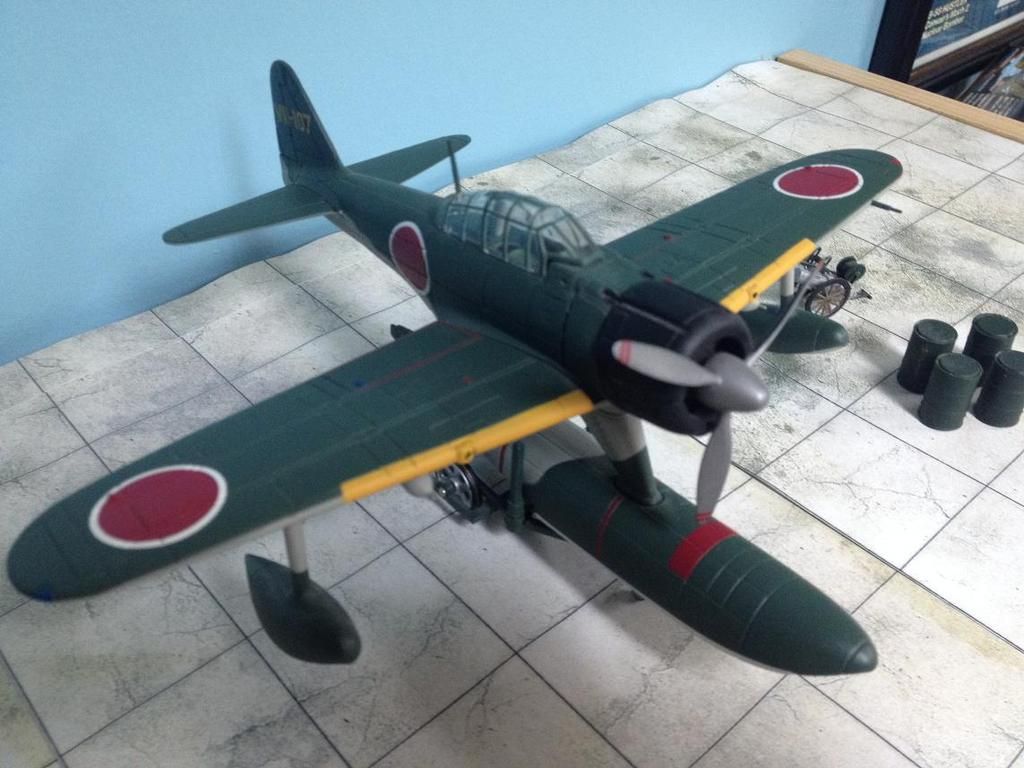 Specifications (Nakajima A6M2-N)"Suisen 2" ("Hydro fighter type 2")General characteristics
Length: 10.10 m (33ft 1⅝ in)
Wingspan: 12.00 m (39 ft 4⅜ in)
Height: 4.30 m (14ft 1⅜ in)
Wing area: 22.44 m² (251.4 sq ft)
Empty weight: 1,912 kg (4,235 lb)
Loaded weight: 2,460 kg (5,423 lb)
Max. takeoff weight: 2,880 kg (6,349 lb)
Powerplant: 1 × Nakajima NK1C Sakae 12 air cooled 14 cylinder radial engine, 950 hp (709 kW) at 4,200 m (13,800 ft)
Performance
Maximum speed: 436 km/h (235 knots, 270.5 mph) at 5,000 m (16,400 ft)
Cruise speed: 296 km/h (160 knots, 184 mph)
Range: 1,782 km (963 nmi, 1,107 mi)
Service ceiling: 10,000 m (32,800 ft)
Climb to 5,000 m (16,400 ft): 6 min 43 s
Armament

Guns:
2 × 7.7 mm Type 97 machine guns in forward fuselage
2 ×20 mm Type 99 cannons -fixed in outer wings
Bombs: 2 × 60 kg (132 lb) bombs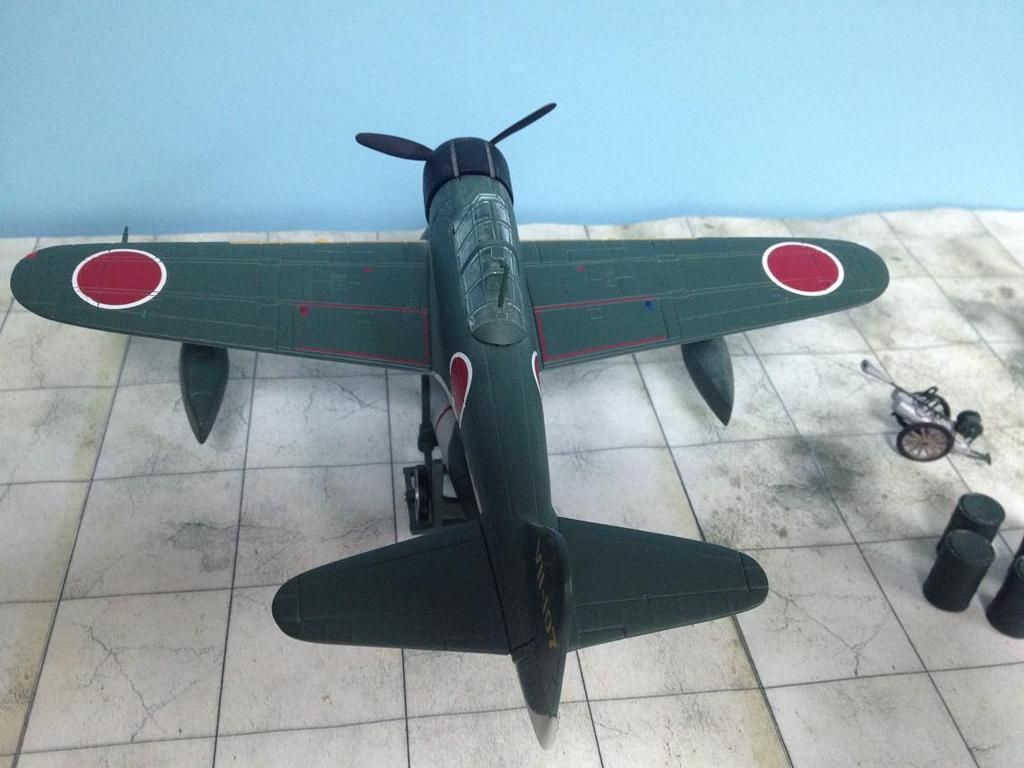 Like most Franklin Mint aircraft it has a nice heft and finish. We have to remember the era when they were being produced so I think FM did a credible job on staying true to "form" of the aircraft. The Rufe had a beefier rudder and an extra strake under the fuselage to help offset the pull from the large center and two outrigger floats For those that think FM just slapped a pair of floats on their zero, they did make an attempt to make it a bit more accurate .
The FM Rufe and Marushin A6M2 lets you see FM did make some adjustments vs just slapping a pair of floats under the wings.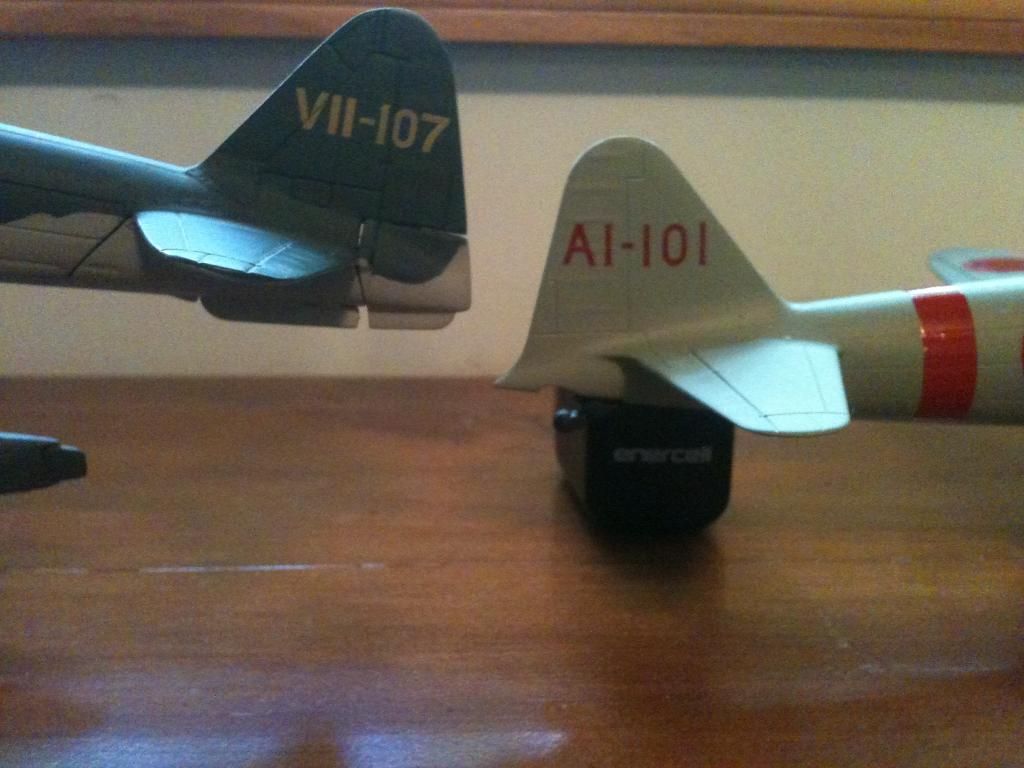 The initial shipment of Rufe's seem to be in the light early war coloring as seen in available photos while the EA13 Jakes appear to be the darker color.
Later photos do show darker color Rufes and Hasegawa kits often depict this as well. The yellow wing leading edge stripes are another question as no photo I have found shows these but again, Hasegawa kits do. You have to assume the Japanese kit maker knew their business as diecast makers often take their ques from them. There were several shipments of the A6M2-N and different tail numbering for the units based on Kiska and Attu so this paint scheme and tail numbering is possibly accurate.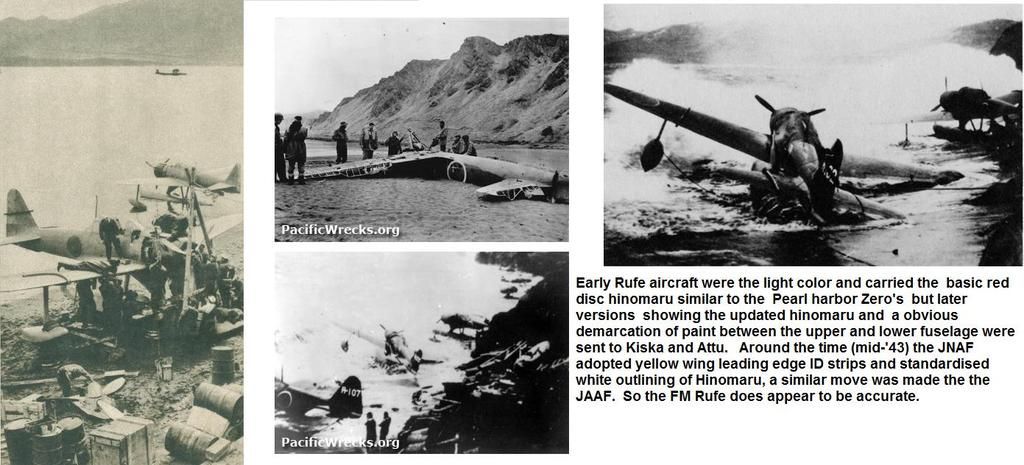 An excellent photo showing a light colored A6M2-N under maintenance. The tail marking is censored but the letter "R" is visible. Before becoming independent the A6M2-Ns of the 5th Kokutai carried the tail marking "D" denoting the Toko-ku. From August 5, the marking changed to "R". From the beginning of 1943 the tail marking changed again to "MI". Note the Kawanishi H6K "Mavis" in the background. Later photos show the white circle around the hinomaru and two toned paint. At this time the designation was changed to designate the unit the 452 N.F.G. (That's Naval Fighter Group)This unit used V in their tail codes.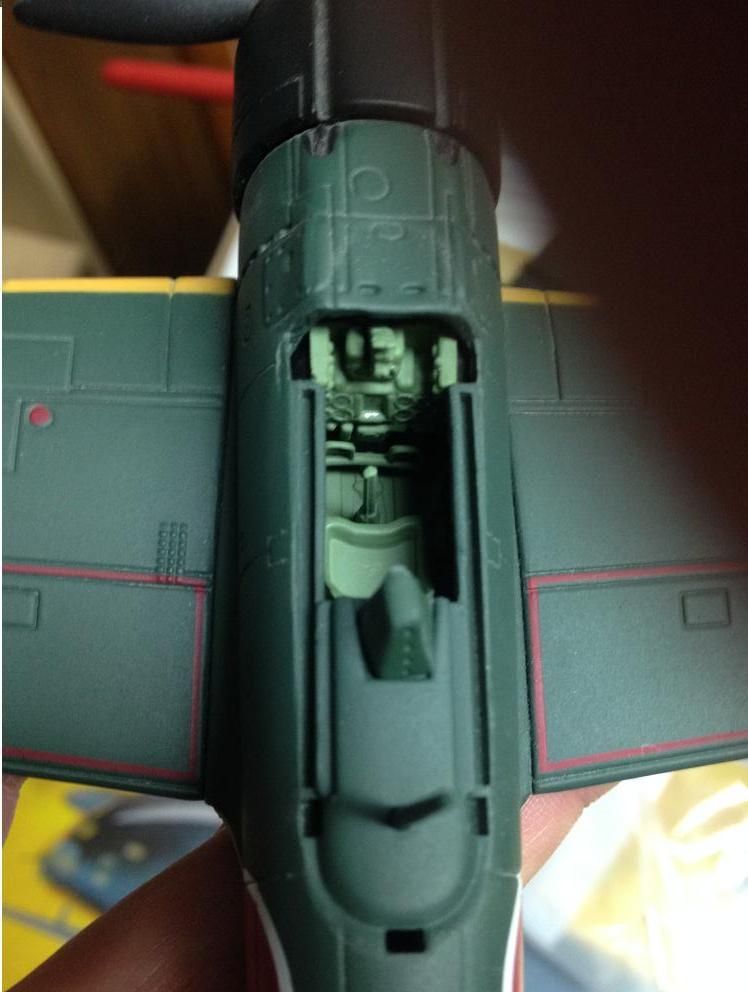 The cockpit is not painted but its not bad either. The canopy simply slides over the antenna. and seats very well. I did not snug it down in a few shots.
In order to save money the under sides had the landing gear closed and held by tiny screws. The floats were also held in this way. Not quite the horror in appearance of a Yat Ming offering but the real Rufe did not have a landing gear cover lash up of this sort. Note it still has the made in china sticker and FM in raised lettering on the horizontal stabilizer.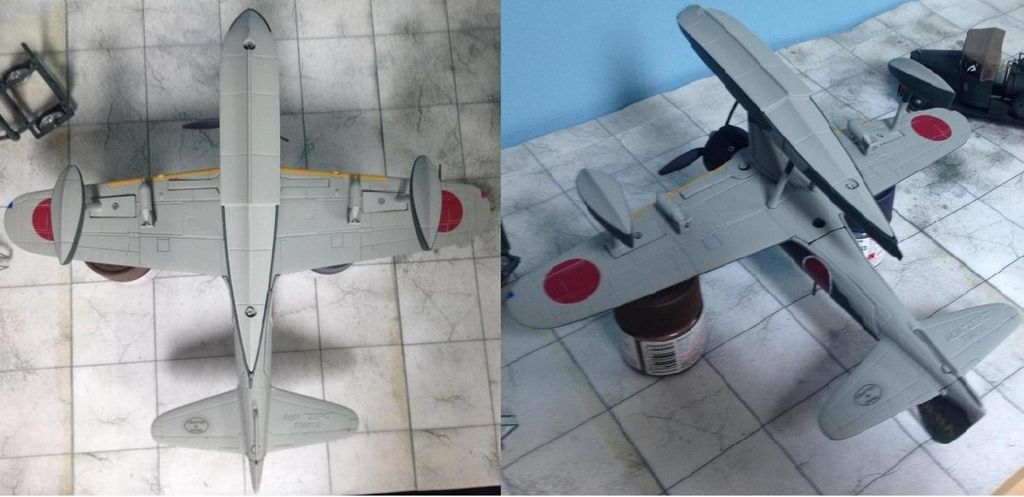 Still, those of us who collect 1/48 diecast and Japanese aircraft in particular, could not have been more pleased to have it be available. They can go for some crazy prices on Ebay. I have a soft spot for this one as it was my first die cast. A absolute unexpected surprise gift from my wife. So I get to blame her for the diecast addiction I have suffered these many years.
Production
A total of 327 built by Koizumi Nakjima Hikoki K. K. between December 1941 and September 1943. During late 1942, roughly twelve fighters were built per month. During this period, half of the production was sent to the Aleutians.
URL=http://s769.photobucket.com/user/KYUSHUJ7W/media/rufe2_zpse101cbaa.jpg.html]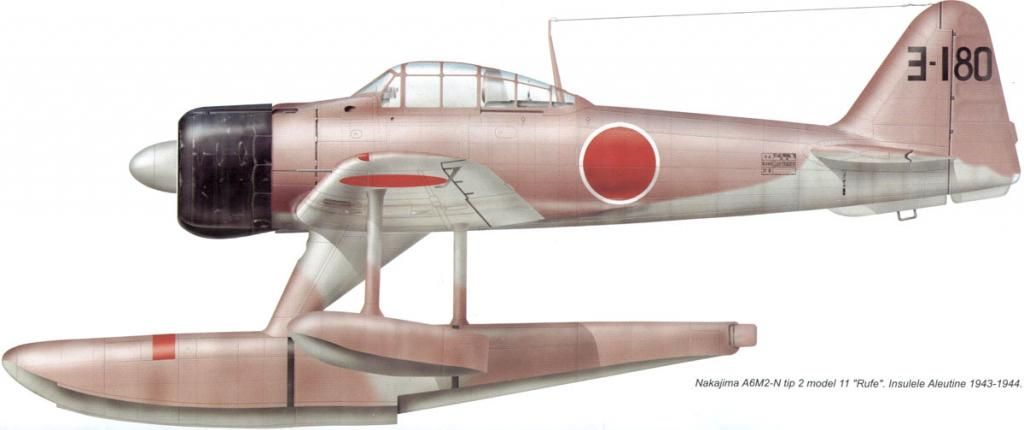 [/URL]
[/URL]
Japan was the only nation to produce and deliver into service float-equipped single-seat interceptor fighter seaplanes. When in 1940 the Japanese navy initiated the design of a new interceptor seaplane (Kawanishi N1K1 Kyofu /Rex), the need was also expressed for a
stopgap aircraft
and
Nakajima
was instructed in February 1941 to develop a float-equipped version of the excellent Mitsubishi A6M2 Zero naval interceptor. Imperial Japanese Navy recognized that in the inevitable 'island-hopping' war in the Pacific, there would be few ready-made air bases from which to provide air cover during the occupation of the smaller islands, and that construction of runways would be impractical.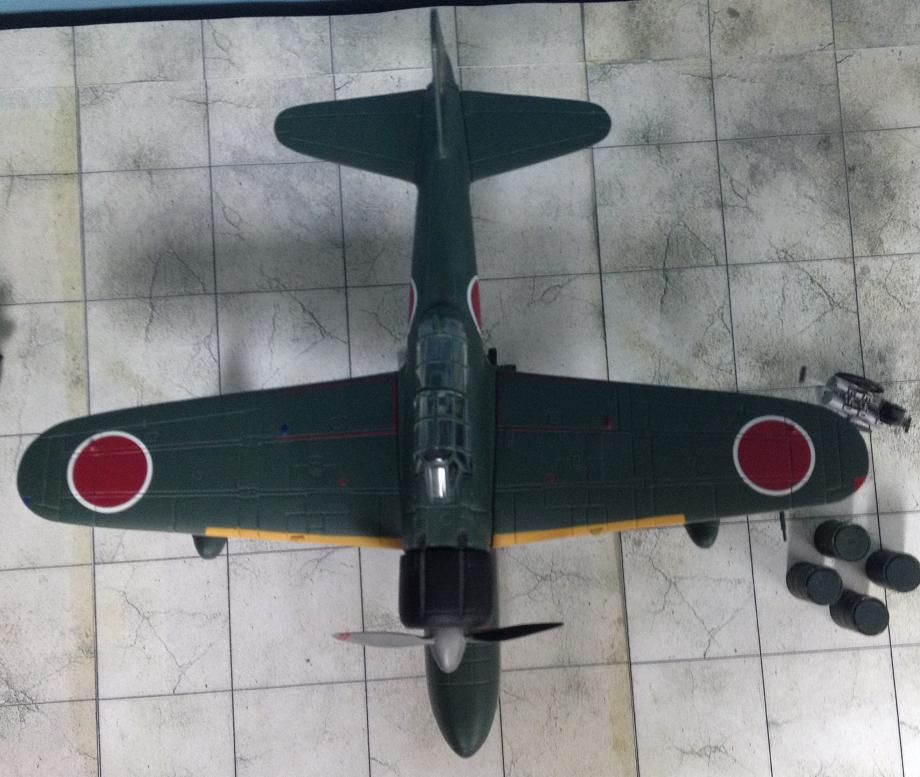 Although equipped with almost a dozen aircraft carriers, Japanese navy would be unable to use them in support of every single island invasion. After removing the wheel landing gear and fairing over the wheel wells of a standard A6M2, Nakajima mounted a large float under the fuselage by means of a forward-raked central pylon and a pair of V-struts below the cockpit; two cantilever stabilizing floats were also mounted under the wings. The standard Zero gun armament was retained, and the first prototype was flown on 7 December 1941, the day on which the Japanese Navy attacked Pearl Harbor. Those modifications degraded performance of the aircraft by about 20% in comparison to the standard Zero.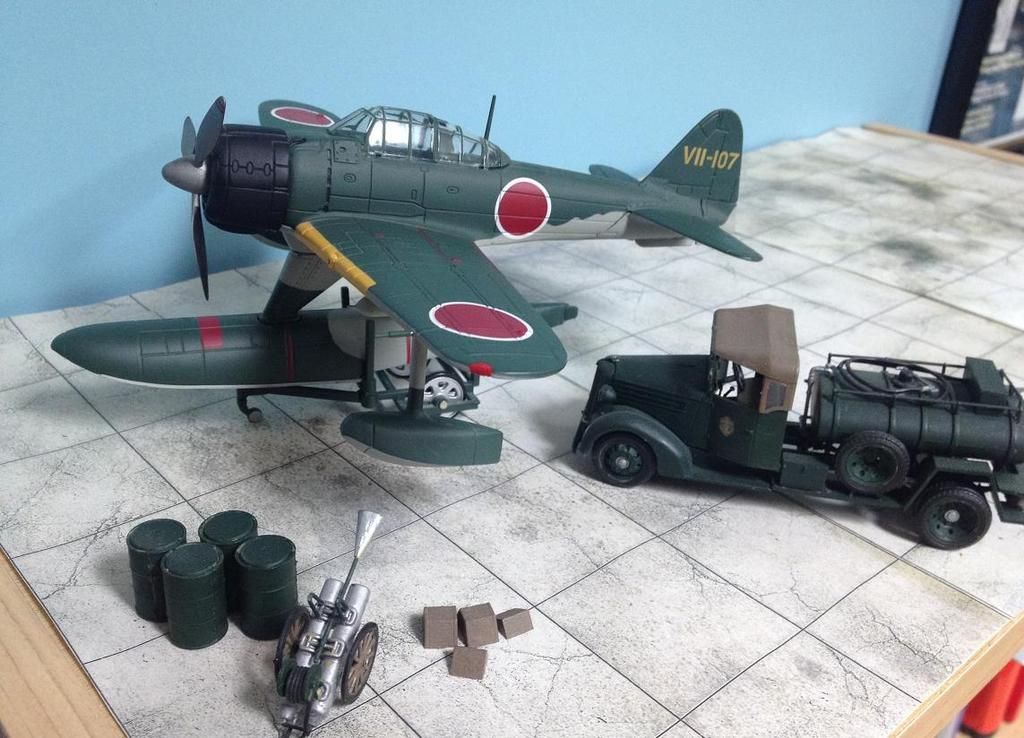 Entering production as the Nakajima A6M2-N and code named Rufe by the Allies, the new fighter still displayed a creditable performance, being first issued to the Yokohama Kokutai and deployed to Tulagi in the Solomons where the Japanese had first landed during the Battle of the Coral Sea. Unfortunately for the Japanese, on August 7th, 1942 almost all of the Rufes were destroyed during an air strike performed by Wildcats from the USS Wasp. Rufes fared much better in the later Aleutian campaign, but losses soared as soon as American fighter strength could be built up. Referred to as the "Suisen 2" ("Hydro fighter type 2"), it was utilized in both offensive & defensive actions in the Aleutians and Solomon Islands operations. Such seaplanes were effective in harassing American PT boats at night, and they were very difficult to detect, even with primitive radar. Close misses killed officers and crews of boats such as PT 105. They could also drop flares to illuminate the PTs which were vulnerable to destroyer gunfire, and depended on cover of darkness. Since the boats left a phosphorescent wake which was visible from the air, they would leave their engines in idle to minimize this. It was one reason that John F. Kennedy's PT 109 was caught off guard in idle and rammed by the destroyer Amagiri, unable to maneuver out of the way in time.
The seaplane also served as an interceptor for protecting fueling depots in Balikpapan and Avon Bases (Dutch East Indies) and reinforced the Shumushu base (North Kuriles) in the same period. Such fighters were transported and served aboard seaplane carriers Kamikawa Maru in the Solomons and Kuriles areas. In the Aleutian Campaign this fighter engaged with Lockheed P-38 Lightning fighters and Boeing B-17 Flying Fortress bombers. The aircraft was used for interceptor, fighter-bomber, and short reconnaissance support for amphibious landings, among other uses. Later in the conflict the Otsu Air Group utilized the A6M2-N as an interceptor alongside Kawanishi N1K1 Kyofu ("Rex") aircraft based in Biwa lake in the Honshū area. The last A6M2-N in military service was a single example recovered by the French forces in Indochina after the end of World War II. It crashed shortly after being overhauled. During the final year of the war, when American heavy bombers and naval aircraft opened their great attacks on the Japanese homeland, Rufes of the Otsu Kokutai, based on Lake Biwa, were thrown into the battle as interceptors in defense of Central Honshu but suffered very heavy losses. Total production of the Rufe amounted to 327 before being halted in September 1943
The 5th Kōkūtai (452 Kōkūtai) was formed from the Toko Kokutai float fighter unit operating A6M2-N Rufes that arrived at Kiska Harbor on July 5, 1942. Designated the 5th Kokutai on August 5, 1942. Tail code R-xxx. (three digit tail number). but also X , M & 0 are also in evidence in available photos. When they converted the the 452 group there are aircraft that show a V on the tail code and these aircraft are the dark green paint scheme.
During late 1942, half of all A6M2-N Rufes produced by Nakajima (12 per month) were sent to the Aleutians to this unit. On September 25, 1942 Kimikawa Maru delivered six replacement A6M2-N Rufes and two E13A Jakes to the unit. On Sept 5 Sept. 1942, Ken Boomer of 111 Sq. RCAF - but fighting with the USAAF's 11 Sq. & their "extra" P-40 planes - downed a "Rufe" over Kiska to become the only Canadian to shoot an enemy plane out of North American skies and the only RCAF plane to ever down a Japanese plane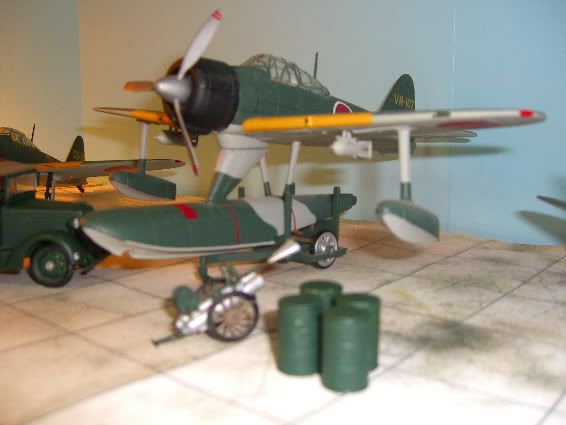 On November 1, 1942 re designated 452nd Kokutai with tail code "M1-xxx". On November 6, Kimikawa Maru returned docking off Attu to deliver more Rufes, but these were destroyed the next day during a storm and American strafing attack on November 10.
Combats on December 31 and January 1, 1943, claiming two each day without loss. Bad weather made all the unit's aircraft unservicable on January 4, and none were repaired until January 24 when search missions spotted American ships off Amchitka Island, and bombed them with 60kg bombs, attacking them three other times in January.
On January 31, Kimikawa Maru delivered six more A6M2-N Rufes and one E13A Jakes to Attu and entered combat the next day.
On February 2, two were shot down by anti-aircraft fire over Amchitka Island. On February 19, two more were lost including PO1c Gi-ichi Sasaki (4 victories, 5 shared victories and 1 probable). Afterwards, operations switched to defensive. Their last aerial combat was likely March 17, 1943 when seven Rufes fought P-38s, claiming two shared victories.
The surviving members of the unit were evacuated on from Kiska by submarine back to Yokosua to reform the unit. During the Aleutians campaign, they claimed 15 victories, 5 probables and lost 12 aircraft and 10 pilots. All 35 A6M2-N Rufes sent to the Aleutians were lost in combat, damaged on the ground by enemy action or bad weather or abandoned. While I am still researching the unit according to Imperial Japanese Navy Aces, 1937-45 by Henry Sakaida (Osprey, 1998, pag. 42, 110.) Japan produced two navy floatplane aces during WW2: Kiyomi Katsuki and Eitoku Matsunaga. The Naval Institute press
publication Japanese Naval Aces and Fighter Units by Hata Izawa and Gorham does not list them however. But I have often found discrepancies between various researchers. Japan destroyed many files at wars end but some ended up in private hands.
After I took the underside shots I should have snugged the canopy down. It really does not ride up like this.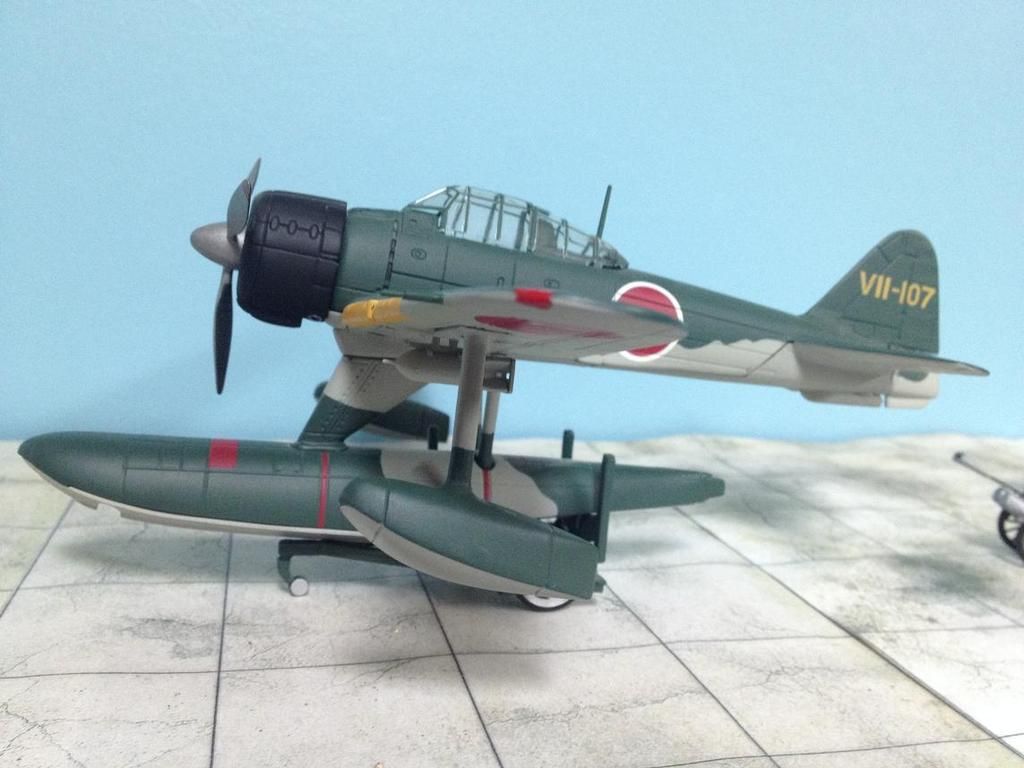 These are serial numbers - not tail numbers.
A6M2-N 198 delivered Aleutians December 25, 1942
A6M2-N 284 delivered Aleutians December 25, 1942
A6M2-N 287 delivered Aleutians December 25, 1942
A6M2-N 462 delivered Aleutians December 25, 1942
A6M2-N 467 delivered Aleutians December 25, 1942
A6M2-N 550 delivered Aleutians December 25, 1942
A6M2-N 552 delivered Aleutians December 25, 1942
A6M2-N 5156 delivered Aleutians March 10, 1943 abandoned Kiska Harbor
A6M2-N 6145 delivered Aleutians March 10, 1943 abandoned Kiska Harbor
A6M2-N 6146 delivered Aleutians March 10, 1943 abandoned Kiska Harbor
A6M2-N 7134 abandoned Holtz Bay on Attu Island
A6M2-N 7133 delivered Aleutians March 10, 1943 abandoned Kiska Harbor
A6M2-N 7134 delivered Aleutians March 10, 1943 abandoned Kiska Harbor
A6M2-N 7138 delivered Aleutians March 10, 1943 abandoned Kiska Harbor
A6M2-N 8122 delivered Aleutians January 30, 1943
A6M2-N 8125 delivered Aleutians January 30, 1943
A6M2-N 8128 delivered Aleutians January 30, 1943
A6M2-N 8129 delivered Aleutians January 30, 1943
A6M2-N 7132 delivered Aleutians January 30, 1943
A6M2-N 9114 delivered Aleutians January 30, 1943 abandoned Kiska Harbor
A6M2-N 9118 delivered Aleutians January 30, 1943
A6M2-N 9119 delivered Aleutians January 30, 1943
The off center look is the angle I took the photo with and not the model itself.


[/URL]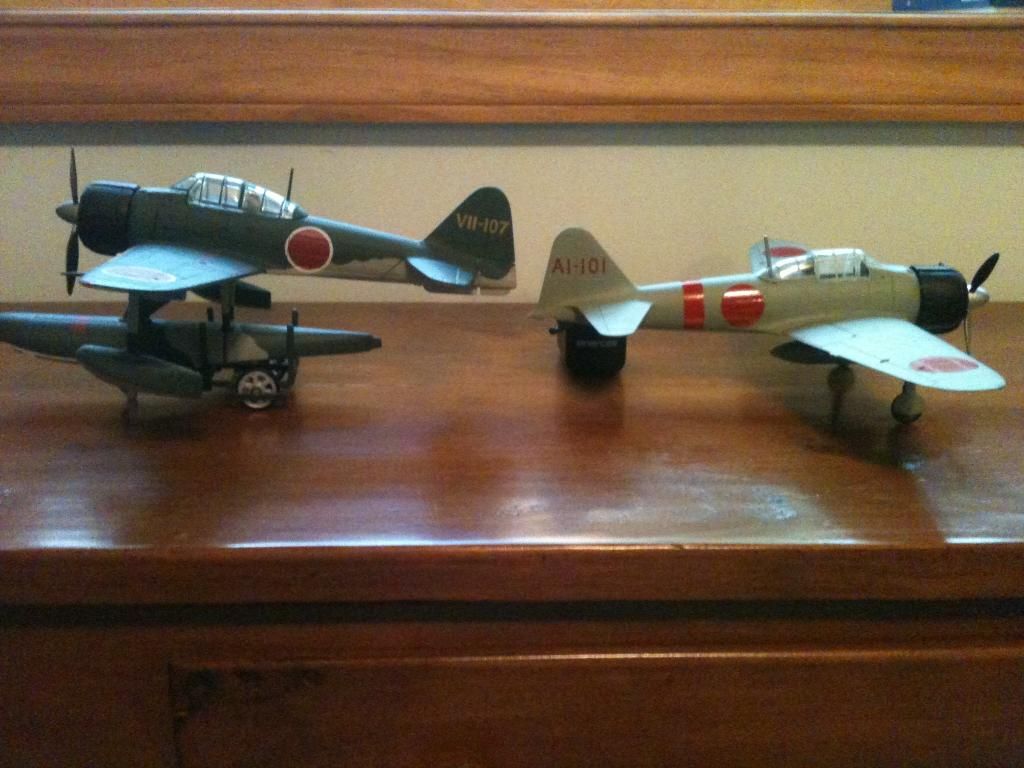 [
An interesting WWII training film featuring Ronald Reagan and the Zero. Just click on the Utube link.
He stars as Lieutenant Jimmy Saunders (Ronald Reagan) learns how to tell a US P-40 from a Japanese A6M Zero fighter the hard way. (That's a very angry Craig Stevens aka "Peter Gunn" on the receiving end.) Contains plenty of interesting info about what US pilots were told about Japan's most produced and feared fighter and how to spot it. Includes rare footage of a captured Zero doing spectacular aerobatics. Though The Rufe is not being discussed in the film it was built from the zero so I thought it might interest some of you. This was the Zero recovered in the Aleutians used in the film.